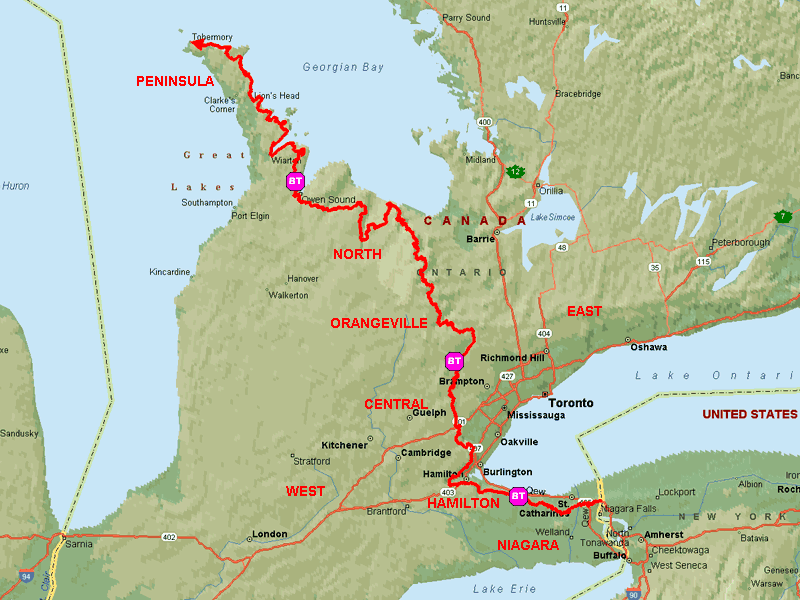 Location Maps -Picking a Hike by Region
In order to help you select hikes in a particular area, we have grouped the hikes by location. Click on the region map to see a larger map showing the hike locations for that area. For a more precise locator, use the Road Map icon in the individual hike.
---
---
---
---
---
Picking an Easy, Shorter Hike
While some of the hikes below seem to be on the long side, the distances that are marked with an asterisk (*) can be shortened to suit by omitting loops. See the individual hike trail maps to see how the lengths can be altered. This reduced length will change the difficulty level from Intermediate to Beginner.
L26 Mount Nemo CA

Central Region 5 km* A good beginners walk along the escarpment edge
L15 Albion Hills CA


Orangeville Region 9 km* Rolling hills and you might see a deer
L04 Rouge Park

East Region 10 km* Interesting trails along the Rouge River
L37F Elora Gorge

West Region 10 km* A good hike after the camping season is over
L16 Cheltenham Badlands

Orangeville Region 11 km* A one of a kind moonscape
L54F Chedoke Falls

Hamilton Region 11 km* Interesting walk with a high and low perspective
L51F Hilton Falls CA


Central Region 11.5 km* A great place for a family outing with picnic tables
L09F Dundas Valley Ancaster Waterfalls

Hamilton Region 13 km* A number of great waterfalls along the hike
L21 Walker Woods

East Region 14 km* Lots of trails; can be confusing
L40 Backus Woods to Heritage Village


West Region 14 km* Avoid in mosquito season
L28 RBG North Shore

Hamilton Region 14 km* Beautiful walk along the North Shore of Hamilton harbour
L24 Queenston Heights to Fireman's Park


Niagara Region 14 km Good if you have two cars to jockey
L23 Eldred King Woodlands


East Region 15 km* Some sandy trails; poor trail markings
Picking a Challenging Hike
Looking for a challenge, or working to build endurance and strength? You'll enjoy these hikes for sure. Hmmmm! Guess everyone in the Orangeville area must be fit.
L08 Boyne River PP

Orangeville Region 14.5 km Very hilly terrain; nice views from Murphy's Pinnacle
L06 Hockley Valley


Orangeville Region 13.7 km Very hilly terrain -good cardio workout
L31 Hockley Heights


Orangeville Region 23 km Long and the "Three Sisters" hills are tough
L19 Humber Valley


Orangeville Region 26 km Not so difficult but long
L38 Boyne to Mulmur Hills

Orangeville Region 18 km return Lots of hills but beautiful route; good lookouts
L39 Boyne to Pine River

Orangeville Region 21 km linear An extension of L38 north to the Pine River Fishing Pond
L53 Hemlock Ridge

Orangeville Region 17 km return A great hike with great lookouts and fall colour
L46F Rockway to Louth Falls


Niagara Region 7.5 km Not long but some challenging ravines in wet weather
Picking a Long Hike
If you are looking for a long hike, try one of these. Just be sure to bring plenty of water on a hot day.
L07 Dufferin Quarry


Central Region 19 km Great loop hike; avoid mosquito season
L39 Boyne to Pine River

Orangeville Region 21 km linear Very hilly terrain
L32 Woodford Bayview Extension


North Region 22.5 km Rocky but nice views out to Georgian Bay; noisy if the military are training
L17 Thorold North

Niagara Region 22.6 km Not so difficult but long
L31 Hockley Heights


Orangeville Region 23 km Long large loop and the "Three Sisters" hills are tough
L19 Humber Valley Heritage


Orangeville Region 26 km return A great hike but long if returning; better with car jockeying
L18 Thorold South


Niagara Region 26.7 km A long walk through old canal areas
L20 Palgrave to Glen Haffy

Orangeville Region 30 km return Start early if your doing the whole return hike