EXPLORE THE TRAILS AND RUGGED COASTLINE OF MAGICAL NEWFOUNDLAND, CANADA
(Includes airport transfer and daily trail shuttle by private van)
7 Days / 6 Nights
August 15-21, 2020

CANCELLED DUE TO THE COVID-19-RELATED
HEALTH AND SAFETY HAZARDS (JUNE 2020)
EVENT CATEGORY: Hiking Trip, Multi-day.
DIFFICULTY LEVEL: Intermediate -- Recent experience hiking 13km (8mi)/day or more required.
DESCRIPTION
Take part in the ultimate Atlantic-Coast hiking adventure in one of Canada's most fascinating and hospitable provinces -- Newfoundland and Labrador.
The East Coast Trail is a series of 26 wilderness paths totalling over 300 km (190 mi) along the Avalon Peninsula, ranked the world's top coastal destination in 2016 by National Geographic! Enjoy ocean splendours from the shore while traversing towering cliffs and headlands, sea stacks, and coves. Along the way, enjoy picturesque bay-side communities, historic sites, and ecological reserves. Our group adventure allows for a taste of the trail, sampling some of our favourite sections in less than a week.
Visit lovely Lake Quidi Vidi and Signal Hill, hike over a scenic suspension bridge, rest by a picturesque lighthouse at Fort Amherst, and step back in time as we tour the historic Colony of Avalon in Ferryland. Keep an eye on the sea for whales and icebergs (in season) and along the trail for nesting bald eagles and wandering moose! Take in the history and culture of small fishing towns, including some of the very first harbours in North America to be frequented by Europeans, and onjoy a memorable 2-hour boat tour off the stunning Newfoundland coastline (included).
Max 12 participants. We recommend that you register on this site by April 1 to secure your spot.
TRANSPORTATION
The start and end point of our journey is the St John's, NL Intl Airport (YYT). Round-trip transfer from the airport to our cabins is included. Daily round-trip transport service by private trail shuttle is also included. (1)
ACCOMMODATION & MEALS
We will stay in shared 2-bedroom or 3-bedroom cabins with private bathroom in the village of Tors Cove, south of St John's, NL. Our 2-bedroom cabins also have a fully equipped kitchen with microwave coffee maker, and comfortable living room area with satellite TV. The rooms have either a double bed or a single bed.
Three meals per day are INCLUDED (breakfast and supper are served by our hosts and each hiker gets a packed lunch for the trail),
Backpack for day use, hat, hiking poles, water bottle, hiking boots, rain jacket, bug spray, sun block, sun glasses, camera, cell phone, toiletry, whistle, snacks.

COST

$1475 CAD (about US $1100) +Tax pp for 6 nights (double occupancy)

Payable by cheque or credit card to our service provider: Brown Rabbit Cabins in Tors Cove, NL, Canada. Phone 1-709-334-2208
OTHER COSTS: Airfare, medical insurance (if not a resident of Canada) and other travel or personal expenses paid separately.

GETTING THERE
* By chartered van: Meet your hike leader, Walter at the St John's, NL Intl Airport (YYT), OUTSIDE the Domestic Arrivals area on Saturday, Aug 15 at 3:30 PM

* By car: Drive to Tors Cove, NL. Exact location and meeting time will be emailed to all those who register on this website.
TRIP ORGANIZER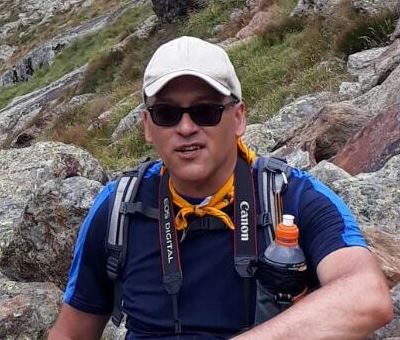 Walter De Marco • He is a worldwide traveler who lives in Toronto, ON and organizes outdoor events and trips for adventure lovers with TorontoHiking, as well as several Meetup groups. He will escort the group and lead all the hikes on this amazing hiking adventure.



BOOKING DEADLINE: Mon, June 15

NOTE
(1) Please, ensure that you arrive at the St John's, NL Intl Airport (YYT) by 3:30 pm on Day 1 (August 15), in order to use our private airport transfer service. If you are late, you may travel to the site of our cabins in Tors Cove, NL by other means.