THE PERFECT GROUP OUTDOOR ADVENTURE IN THE MAJESTIC CANADIAN ROCKIES!
(Includes transport by private trail shuttle for 4 days)
7 Days / 6 Nights
Jun 28 to Jul 4, 2020

Calgary ~ Banff ~ Lake Louise ~ Lake Minnewanka
Athabasca Glacier ~ Peyto Lake ~ Yoho National Park ~ Moraine Lake
CANCELLED DUE TO THE COVID-19 -RELATED
HEALTH AND SAFETY HAZARDS (MAY 2020)


EVENT CATEGORY: Hiking Trip, Multi-day.

DIFFICULTY LEVEL: Intermediate to advanced -- Recent experience hiking 16km (10mi)/day or more required.

DESCRIPTION
Immerse yourself in some of the most amazing landscapes that Canada offers, hike on scenic and well-maintained mountain trails, spot diverse wildlife, and rest by brilliant turquoise lakes in the amazing Canadian Rockies. Discover Moraine Lake, the Athabasca Glacier and hike the trails surrounding the stunning Takakkaw Falls on included day trips, or choose from one of the many exciting optional activities in the Lake Louise area, such as canoeing, a scenic gondola ride or extreme zip lining. Each day will be even more exciting than the last!

Max 10 participants. We recommend that you register on this site by March 1 to secure your spot.

HIGHLIGHTS
• Guided hikes in the majestic Canadian Rockies
• Discover Banff and Yoho National Parks
• Abundant wildlife viewing opportunities
• Enjoy an amazing drive up the Columbia Icefields Parkway
• Explore Lake Louise, Moraine Lake and Takakkaw Falls
• Stay in a private double of dorm room at the comfortable HI Lake Louise hostel

DAILY ITINERARY >> Please, click HERE <<


VIDEOS: Banff NP, Yoho NP, Lake Louise, Moraine Lake, Wilcox Pass >> Click HERE <<
TRANSPORTATION
The price includes a trail shuttle service by chartered van with a local driver for days 2, 3, 4 and 5, and round-trip transport to Moraine Lake aboard a shared bus on Day 5. We will use a local bus service operated by Parks Canada for transportation to local trails (not incl). Return fares for the local bus are $4 for adults and $2 for seniors (over 65).
Flight and airport transfer are not included. Airport transfer by private bus is available with Brewster Express . Visit the following link to book your transfer: https://www.banffjaspercollection.com/brewster-express/­

ACCOMMODATION
We will stay for six nights at the comfortable HI Lake Louise Alpine Centre hostel, located at a short walking distance from the village of Lake Louise. The hostel features a restaurant and several spacious and bright common sitting areas. Payment for accommodation must be made directly to the hostel at the time of check in.
Meals are not included. Every day we will choose a suitable venue for our breakfast and dinner.


The HI Lake Louise Alpine Centre hostel

ROOM INFO*
A) Priv. room with 1 Double + 1 Single bed (bunk). Good for one couple or 2 single guests
B) Priv. dorm room w 4 beds (FEMALES only). Shared with other members of our group

* The rooms do not have an en-suite bathroom. There are shared bathrooms on each floor.

WHAT TO BRING
Backpack for day use, hat, water bottle, hiking boots, rain jacket, bug spray, sun block, sun glasses, camera, cell phone, hiking poles, towels, toiletry, whistle, snacks.

COSTS
A) Double or Twin Room: $1360 CAD +Tax (About US $980)
B) Priv 4-bed Dorm Room (FEMALES only) $1215 CAD +Tax (about US $880)
Payable by cheque or credit card to our service provider: Pursuit Banff Jasper in Calgary, AB, Canada. Phone 1.866.606.6700
ROOM RATES
The prices above include your hostel accommodation.

OTHER COSTS
- Airfare and meals not included
- Optional HI Hostels Membership: $35 CAD (Members get a 10% DISCOUNT on their accommodation)
- Airport Transfer from and to Calgary Airport by Brewster Express $180 CAD (Incl Tax)
- National Park Pass: $8.50/Day
- Round-Trip bus fare to Lake Louise lakeshore: Adult: $4; Senior (over 65): $2
- Medical insurance (if not a resident of Canada)
- Other travel or personal expenses paid separately.



TRIP ORGANIZER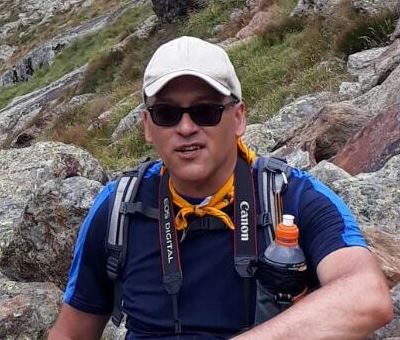 Walter De Marco • He is a worldwide traveler who lives in Toronto, ON and organizes outdoor events and trips for adventure lovers with TorontoHiking, as well as several Meetup groups. He will escort the group and lead all the hikes on this amazing journey, along with another organizer of hiking trips from the Calgary, AB area.

RSVP Deadline: Wed, May 20