EXPLORE THE GORGEOUS BRUCE PENINSULA IN GEORGIAN BAY, ONT, CANADA
(Includes transport from Toronto and daily trail shuttle service by private van)
5 Days / 4 Nights
Jul 15-19, 2020

CANCELLED DUE TO THE COVID-19-RELATED
HEALTH AND SAFETY HAZARDS (MAY 2020)


EVENT CATEGORY: Hiking Trip, Multi-day.

DIFFICULTY LEVEL: Advanced -- Recent experience hiking 18km (12mi)/day or more required.

DESCRIPTION
You are invited to join our guided hiking adventure in one of Canada's favorite hiking destinations -- the Bruce Peninsula!
Located in spectacular Georgian Bay, on the shores of Lake Huron, this region is home to the Bruce Peninsula National Park, a UNESCO-protected area featuring thousands of acres of lush green forests, peaceful inland lakes, flat-rock beaches and limestone cliffs towering over the Bay's turquoise waters.
The Peninsula also houses a section of Canada's longest walking path -- the Bruce Trail. This section of the trail stretches for 170 Km from the town of Wiarton to Tobermory in Ontario, through green forests and along cliffs with gorgeous vistas over the lake and the rocky coastline. Every day we will explore a different part of this well-marked trail. The hikes are quite difficult with steep climbs and rugged, rocky terrain. This trip is suitable for advanced-level hikers only.
Max 11 participants. We recommend that you register on this site by May 1 to secure your spot.


ACCOMMODATION AND MEALS
We will stay at a charming guest house in the lakeside village of Lion's Head. Our lodge features free WiFi, a common dining room and several sitting areas. Accommodation is in double (if joining with a partner) or twin rooms with private bathroom, shared with a fellow group member. There are NO single rooms available. If you don't have a roommate, you will be paired with another participant of same gender.
Meals included: 5 breakfasts, 5 lunches and 2 dinners.
WHAT TO BRING
Backpack for day use, hat, water bottle, hiking boots, rain jacket, bug spray, sun block, sun glasses, camera, cell phone, hiking poles, toiletry, whistle, snacks.

COST:
$995 (About US $740) + Tax
Payable by credit card to our service provider: Lionheart Guest House in Lion's Head, ON, Canada. Phone 1-519-793-3325


INCLUSIONS
* 4 nights accommodation in a double or twin room, shared with a fellow group member;
* round-trip transfer by private passenger van from Toronto with a professional driver;
* 12 meals as listed above;
* daily transport by private trail shuttle with a professional driver;
* daily hikes or other activities with an experienced Canadian hike leader;
* one sightseeing visit to the town of Tobermory.

OTHER COSTS: Meals and beverages not listed above; park entrance fees (about $8/day), medical insurance (if not a resident of Canada) and other travel or personal expenses paid separately.

GETTING THERE
* By Private Van: Meet your hike leader, Walter in Toronto, OUTSIDE Starbucks Coffee at Yonge St and York Mills Rd (York Mills subway station). Departure: Wednesday, Jul 15 at 10:15 AM

* By Car: Those who wish to drive to our destination are free to do so. However, we have made arrangements for all transportation needs by private shuttle with a local professional driver. This will make our trip more relaxing and eco-friendly. Exact destination and time will be emailed to all those who register on this website.

TRIP ORGANIZER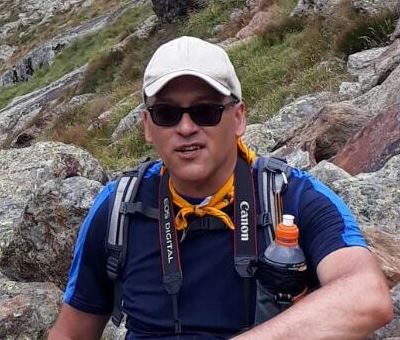 Walter De Marco • He is a worldwide traveler who lives in Toronto, ON and organizes outdoor events and trips for adventure lovers with TorontoHiking, as well as several Meetup groups. He will escort the group and lead all the hikes on this amazing hiking adventure.



RSVP Deadline: Mon, June 1

###